Frank Natale Books are available in paperback and e-book as noted.
Results: The Willingness to Create
A Six-Week Course in Creative Consciousness
Since introduction in the early 1980s, Frank Natale's foundational program, Results: The Willingness to Create, has transformed tens of thousands of lives in profound and meaningful ways. Now it's your turn. The secret, and it can be this simple, is your choice to embrace your highest self and become the creative force in your life.
Success is not a secret. Success is a way of thought. This is your opportunity to clear your mind and be free to create the life you choose. By yourself, or working with a group, the six-week Results course will refocus the way you think about your life and manifest results. Create your new life now.
Week 1: Refocus and choose a list of results you truly want.
Week 2: The power of the results cycle, creativity, cause and correction.
Week 3: Perception, the inherent power of choice and commitment.
Week 4: Create collective thought, agreement and results without delay.
Week 5: How acknowledging all results makes major results inevitable.
Week 6: Completion and acknowledgement creates more results.
Paperback:

---
Relationships for Life
How Conscious Love Transcends Crisis, Pain and Self-Avoidance
Are you cheating on your self? The qualities of aliveness in our relationships – with love, family, friends and career – determine the quality life. Based on work with thousands of people in his Relationships seminars, Frank reveals how to recognize and recreate the 20 vital qualities including responsibility, service and acknowledgment, affinity and trust, effective communication, honorable sexuality, forgiveness, laughter, humor and playfulness, relatedness and the presence of love.
"In seeking these qualities," Natale writes, "You will gain an opportunity for greater awareness of your self, which is the highest achievement any of us can accomplish at any given moment. These qualities are found in personal or romantic situations, but are also evident or lacking in our relationships with money, religion, sex, work and authority. They are the indicators of the status of our relationship with everything that is our life."
Paperback:

---
The Wisdom of Midlife
Reclaim Your Passion, Power and Purpose
It is inevitable, between the ages of 39 and 55, that each of us will be confronted with a profound crisis of identity. "Now what?" we ask. The Wisdom of Midlife presents the opportunity to reclaim the passion, power and purpose we have either lost or denied. "The difficulty with this passage is that it is seen as a breakdown, an emotional and psychological failing," Frank Natale writes. "Middle age is not the beginning of decline. This is a time to reach for the highest in our selves. Middle age is a pause to re-examine what we have done and what we will do in the future. This is the time to give birth to our power."
For thousands of years, conscious cultures have celebrated life as a circular path with rites of passage and spiritual completions. Midlife is the most powerful because, at this turning point, we often feel betrayed, unfulfilled and face our mortality for the first time. "Once we are able to think and live in circles rather than lines," Natale counsels. "We are rewarded with passages that guide our consciousness in its spiritual development and greater awareness. When we experience life as a circle we are complete."
Paperback:

---
Natale Trance Dance
Create an Experience Beyond Belief
Ideal for yoga, dance and movement expression instructors and their students, the Natale Trance Dance celebrates the reunion with our higher spiritual self and healing of body, mind and emotions. Based on Frank Natale's groundbreaking book, and featuring the music of Professor Trance, this concise step-by-step guide shows how to create, present and market a unique experience that empowers dancers to embrace the timeless wisdom of our ancestors.
"To be conscious and enlightened, Spirit must fill our bodies," Frank Natale writes. "Trance Dancing is an invitation to Spirit to embody us. When Spirit accepts, we dance from the inside out." Contents include Introduction; Technique, Staging and Marketing; Ethics for Presenters; Music and Playlists. Excerpts from Natale's Trance Dance, The Dance of Life include The Healing Power of Trance Dance; How to Trance Dance; and How Trance Dance Works.
---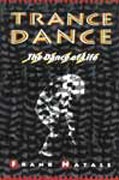 Trance Dance, The Dance of Life
Paperback, 116 pages
The Natale Trance Dance is an invitation to return home and heal your body, mind and emotions. With Trance Dance, you experience freedom of expression and permission to totally be your self. Pouring your being into space, you deeply connect with everyone and everything, spontaneously creating the dance and releasing the natural flow of your feelings. In this authoritative guide, Natale presents the origins, process and spiritual power of the international trance dance phenomenon.
"Trance Dancing fills you with passion, energy and the ecstasy of life. Shamanic Trance Dancing has been practiced for thousands of years. Through breath, movement and rhythm we begin to see with the senses rather than the eyes. We call our 'soul parts' home to our bodies where they belong. Spirit returns. Tremendous energy awakens. Healing occurs."
- Frank Natale